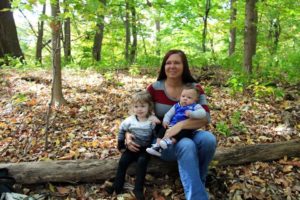 Tangila Smith
Executive Director
Tangila first became involved with ITV by fostering dogs in 2011.  She was hooked after her first foster dog, a pitbull named Loula, who was adopted into a loving forever home.  Tangila became more active with ITV and eventually started working full-time, putting her heart and soul into saving animals.  Tangila has a particular interest in helping pit bulls. Tangila is the proud mother of 3 children and 7 grandchildren. She and her husband, Kevin, share their home with 4 rescue dogs.  Tangila has also fostered numerous animals, including special needs animals.  Tangila has completed several animal rescue training programs and she is always learning by attending webinars and animal welfare conferences.   Tangila has also completed apprenticeships offered by Maddie's Lifesaving Academy.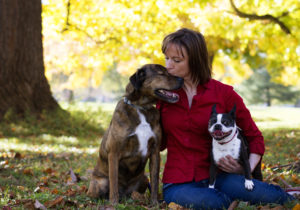 Tammy Schmitt
Board Chairperson
Tammy discovered the world of rescue after adopting 2 Boston puppies from what she later realized was likely a puppy mill. They were very, very sick with numerous problems. In her search for answers and support, she found the world of animal rescue. Since then, Tammy has been active with local and regional rescues joining ITV in 2016. She is a lover of all animals with a special affinity for dogs. This love for animals has lead her to work toward a vegan lifestyle (admittedly still a work in progress). Tammy works as a corporate attorney for the law firm of Manion Stigger, LLP and finds peace and rejuvenation by volunteering with the rescue on weekends. She shares her home with her 2 dogs: Mr. Coffee – mostly Rottie/Chow Chow/Boxer rescue; and Apollo Creed – Boxer/Staffie/Collie rescue (and only foster failure so far).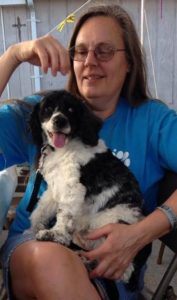 Terri Melton
Board Vice-President
Terri has been a regular volunteer for ITV for many years, always willing to help at community events and when there are dogs in need.  Terri always has a smile on her face and chips in whenever she is needed to help ITV.  Terri is a lifelong Evansville resident and she currently works at Uniseal.  She is devoted to her family and her rescued dog named Dot.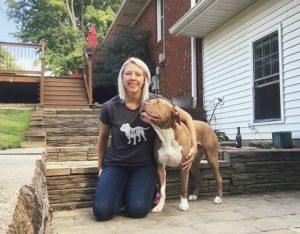 Emily Miles
Secretary/Treasurer
Emily was born in St. Louis, MO but raised in Newburgh, IN.  She attended Castle High School and graduated from the University of Southern Indiana.  Emily has been employed at Deaconess Health Systems for 16 years, and is currently an IT Supervisor.  Dogs have always played an important role in Emily's life.  Growing up she always had family dogs teaching her responsibility, loyalty, and love.  She has been a volunteer with It Takes A Village for many years participating in events and fostering many puppies.  Emily has two rescues of her own, Bailey and Wrigley.  She became a rescue and pitbull advocate when she adopted her first dog, Bailey, not knowing that she was a pitbull.  After she started growing it was obvious and Emily had a mission to become an advocate for the breed.  Wrigley was a foster that she just couldn't let go and he became a full time member of her family.  Emily, her husband Jeff, and son Cameron welcome the rescue life into their home and love each dog as if they were their own.  Each rescue pup earns a picture spot on Emily's "wall of dog" in her home.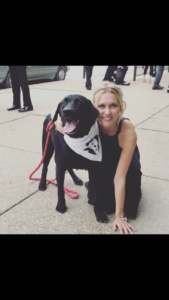 Madeline Rueger
Board Member
After graduating from Indiana University, Madeline moved back to Evansville and began working. Madeline was looking for a hobby and had always been very passionate about dogs. She began fostering for ITV in February 2018. Madeline quickly fell in love with the rescue world and became active supporting ITV events and fundraisers. The first dog she adopted after graduating from college was an ITV foster named Cupid. Cupid had been shot with a hunting arrow and left in the woods. Despite how mistreated she was, she still loved people. After Madeline fostered and then adopted Cupid, she knew that she wanted to help as many dogs as she could. Madeline is currently employed at White Stallion Energy and she spends as many weekends as possible helping out at the rescue. If you stop by ITV and see any of the animals dressed up in a costume or cute sweater as they await their adoption day, you can almost guarantee Madeline is responsible!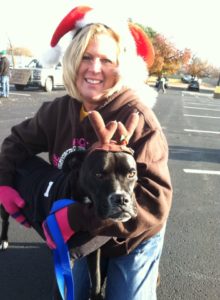 Andrea has been active with ITV since our rescue center opened in 2012.  Andrea is former co-owner of Stockwell Inn, ITV's neighbor. Andrea and her family are tremendous supporters and animal lovers. Andrea rescued a Boxer/Pitbull from ITV named Domino and she said goodbye to her beloved senior dog named Daphne.   After providing Domino with a wonderful live, he unexpectedly passed away.  Andrea has a strong devotion to animals and ITV.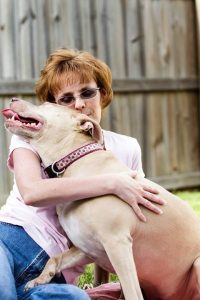 LeAnn Robertson
Board Member, Volunteer Coordinator
LeAnn was born in Anderson, IN, moved to Indianapolis before relocating to Evansville in 2017. After watching a story on the news about a severely injured pit bull named Lilly, LeAnn's advocacy journey began. After Lilly's abuser was found, LeAnn became deeply involved with advocacy, education and adoption of bully breeds. Working to strengthen the owner/pet relationship, low cost clinics were created giving owners access to low cost vaccines, microchips and spay/neuter options. More than 1000 owners took advantage of these services and kept many pets in loving homes. Believing education is a top priority, LeAnn attended countless events from Ft. Wayne to Louisville over many years cultivating community relationships while providing information and resources to pet owners. LeAnn loves all dogs (especially puppies!!) but bully breeds will forever be her passion. LeAnn currently shares her home with her fiance and 2 American Staffordshire Terriers- Brenna, my foster failure and Macey, adopted from ITV and CGC certified. LeAnn also serves as ITV's volunteer coordinator and she can be reached at volunteers@itvrescue.org.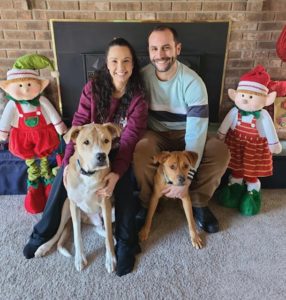 Whitney Lux Tepool
Board Member
Whitney Lux-Tepool has fostered over 20 animals- from puppies to older dogs – since 2019.  Fostering is Whitney's favorite role within ITV. Even though it's hard to not get attached, getting updates on her fosters is very rewarding.  Although the young puppies are very demanding, fostering is very rewarding and can make such a huge difference in their lives.  While fostering dogs, Whitney and her husband Adam opened a dog daycare/boarding facility (River City Pet Camp)…allowing for more fosters!!  Whitney also recently joined the ITV Board of Directors and looks forward to her role within the group.  Whitney and Adam have 2 dogs- Everest and Valley and two hedgehogs, Melvin and Margie.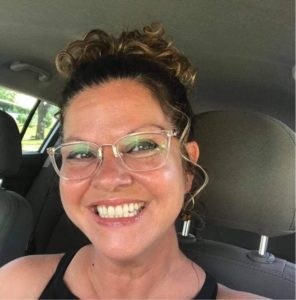 Flavia Schaefer
Board Member
Flavia Schaefer has been helping ITV since 2016 and counting.  She's done pretty much every event from Frog Follies to the yard sale to the Home Show and everything in between.  Her favorite event though is "Photos with Santa" because who doesn't love seeing dressed up animals?! After seeing the cruelty inflicted on animals, Flavia knows that by doing her part, she is helping turn that around and getting homeless animals into loving homes!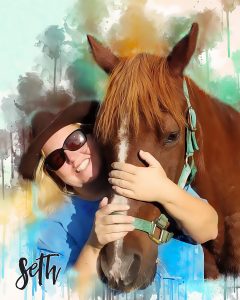 Susan was one of the original founding members of ITV with her friend, Brie Stafford.  Susan is a 1995 graduate of Indiana University and a 1999 graduate of Valparaiso University School of Law.  Susan also has her Masters of Law from Indiana University – Indianapolis. Susan is a Certified Animal Welfare Administrator (CAWA).  She is also Bronze certified for Racial Equity, Diversity, and Inclusion by Companions and Animals for Reform and Equity. Susan started volunteering for Evansville Animal Control in the summer of 2010 after returning to her hometown of Evansville from Indianapolis.  Seeing the dire need to help animals in Evansville, Susan worked with a dedicated group of volunteers to formally form ITV in November 2010. Susan also helped form the Vanderburgh County Animal Cruelty Task Force.  She served as a volunteer Special Prosecutor for the task force from 2012-2015.  Susan successfully prosecuted numerous animal cruelty cases resulting in guilty pleas or convictions.  Susan is also one of the founding members of the Evansville Partnership for Animal Welfare (EPAW), a collaboration of animal welfare groups advocating for improving the lives of animals, including successfully passing a Trap, Neuter, Release (TNR) ordinance. Susan has extensive education and training in animal … Read More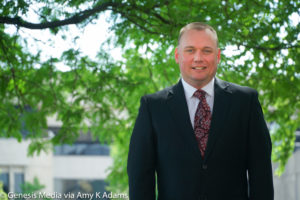 Neal Anderson
Counsel to the Board of Directors
Commitment to a community can take many forms, and Neal Anderson's commitment to Evansville and the Tri-State area shows in his decision to return to his hometown to start his family and his legal career. As a native of Evansville, Neal attended Reitz Memorial High School and the University of Evansville, where he double-majored in Criminal Justice and Sociology. While at UE, he served as President of the Sociology Club and Secretary of the Criminal Justice Club, and was one of five students selected to present his senior research paper at the Undergraduate Research Conference at Butler University. Helping to ensure the legal rights of individuals is important to Neal. While attending the University of South Dakota School of Law, he was actively involved in the Innocence Project of South Dakota, which is staffed by law students who volunteer to investigate claims of innocence raised by inmates at the South Dakota State Penitentiary. The investigation of these claims required review of trial records, interviews with inmates and counsel, and evaluation of evidence used to obtain the conviction. Neal's work with this program helped to solidify the work ethic he exercises on behalf of his clients. In the summers between his … Read More