ITV Doggiepalooza Festival & Buxton Motorsports Open House
September 16, 2017 @ 10:00 am

-

5:00 pm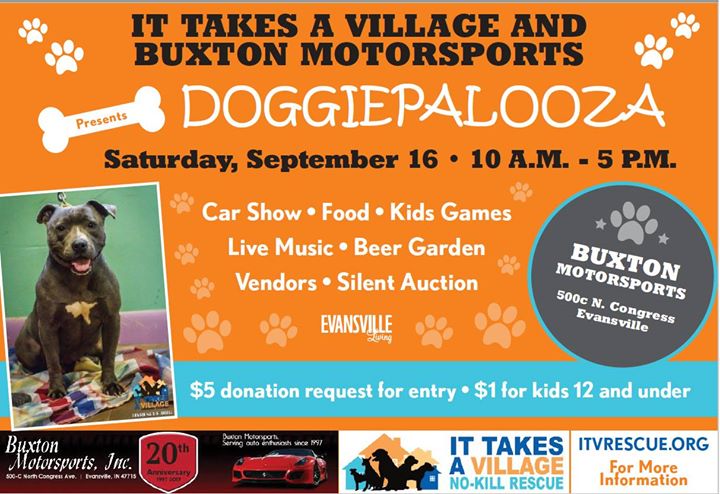 We are excited to present the 3rd annual ITV Doogiepalooza Festival! This year we have added Buxton Motorsports Open House & Car Show! This great event is on Saturday, September 16, 2017. The event will be hosted in partnership with Buxton Motorsports celebration of their 20th anniversary, and their recent move to their new East side location at 500C North Congress Avenue.
We will have many wonderful activities including:
Exotic Car Display
Car Show with trophies, dash plaques & t-shirts
On-site paintless dent removal
Live Music
Food Trucks
Beer Garden
Vendors
Silent Auction
Adoptable dogs from ITV
Children's Activities and much more!!
Silent auction online/mobile bidding at //one.bidpal.net/doggiepalooza/browse/all
Car Show entry is $20.00 and includes an event t-shirt. First 100 cars to register receive a dash plaque. For all others we have a donation request of $5.00 at the door for Adults and $1.00 for Children under 12.
**All proceeds benefit ITV and any donations are tax deductible** Donate, Sponsor or pay for Vendor spots via PayPal at ITVrescue@gmail.com
OR
Online at itvrescue.org/donate
Car Show Trophies:
Buxton Motorsports top pick
It Takes A Village top pick
Car Club participation
Top 5 at show
Peoples Choice ($1.00 donation per vote)
Best British
Best Corvette
Best European
Best Asian Import
Best Jeep
Best Modern Muscle
Best Mopar
Best Mustang
Best Porsche
Best Truck
Car Show Entry is 10:00am – 2:00pm
Car Show Judging 2:00pm – 2:30pm
Car Show Awards at 2:45pm
** DOGS ARE WELCOME TO ATTEND!! **
Sponsors:
Buxton Motorsports, Inc., Event Sponsor
Benny's Flooring, Proud Pup Sponsor
Evansville Events, Stage Sponsor
Evansville Living Magazine – Tucker Publishing, Media Sponsor
Fingers, Fork, Knife and Spoon by Brian Buxton, Event Sponsor
Full Throttle Sound Management, Sound Sponsor
Gretchin Irons / Channel 44 The Best Day Ever, Emcee
Salsarita's Fresh Mexican Grill, Chihuahua Sponsor
Seal-Tech, Chihuahua Sponsor
Shepherd Insurance & Financial Services, Chihuahua Sponsor
Uniseal, Chihuahua Sponsor
Western Ribeye and Ribs – Proud Pup Sponsor
Vendors:
Cigar Cigar
Evansville Living Magazine
Handcrafted Soaps & More!, Marilyn Demont
Hoosier Dent Man, paintless dent removal
Lularue, Catherine Crabtree
Paparazzi Accessories, Cynthia Dreshfield
Scentsy, Shawn Kuhlenschmidt
Pampered Chef, Sharon Stonestreet
Usborne Books & More, Daniele Phillips
Supporters:
Ameri-Stamp Sign-A-Rama
AquaTech Scuba and Travel Center, Intro diving lesson at the YMCA, snorkle & goggles
Brinkers Jewelers, Freshwater 34″ pearl necklace
Buggy Bath Car Wash,1 free car wash and 5 dog wash $10.00 each
Cellular Nation Video Security USA, two home or business Security systems, $3,100.00 total value
Cork and Cleaver, two $25.00 gift cards
Evansville Police Department, EPD vehicles
Give A Dog A Bone, $50.00 gift card, dog themed pic frame & gift basket
I Love Glam Photography, event photos
Pet Food Center, kennel with toys and more!
Raffi's Oasis Café, three $10.00 gift certificates
Pangea, $25.00 gift certificate & 5 gift cards for free Gelato
Petsmart, dog bed with toys and treats
Tri-State Systems / Jason Elikofer
Village East Animal Hospital, 3 months of flea and tick protection and a chew bone
Bands:
DK Wells: 10:00am – 12:15pm
Akacia: 12:30pm – 2:45pm
The Amazing Soul Crackers: 3:30pm – 5:30pm
Food Trucks:
It Takes A Village Food Trailer
Lolly's Pops
Donate, Sponsor or pay for Vendor spots via PayPal at ITVrescue@gmail.com
OR
Online at itvrescue.org/donate
Interested in being a vendor? Vendor information is at //www.dropbox.com/s/4ygu6jmudtxcb49/Vendor%20sheet%202017.doc?dl=0
Sponsorship Levels:
Great Dane: $2,000.00
Pitbull: $1,000.00
Proud Pup: $500.00
Chihuahua: $250.00
Interested in sponsoring this event? Sponsor information is at //www.dropbox.com/s/vimt3t7q6lha918/Sponsor%20sheet%202017.doc?dl=0
We look forward to seeing you at the event! Check out some cool cars, enjoy great food and music, shop at our vendors and auction and help the dogs of ITV in the process! If you can't make the event we would very much appreciate donations of any amount! My goal is to raise $10,000 or more through this event!